Mit dem gekarperten Piratenschiff ging es von Bangkok aus weiter in Richtung Malaysia.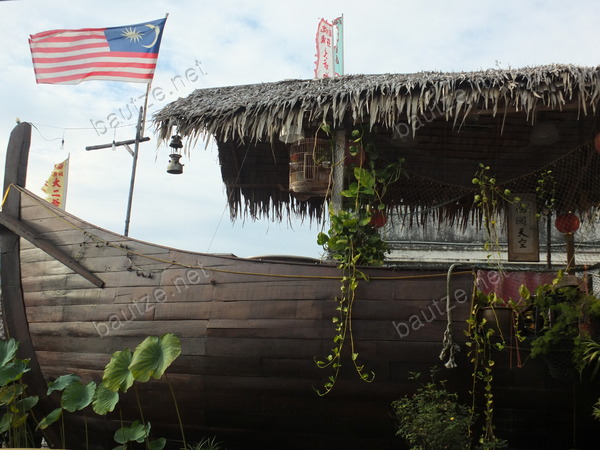 Dank der gut ausgestatteten Schlafkajüten verging die 36-stündige Fahrt fast wie im Flug.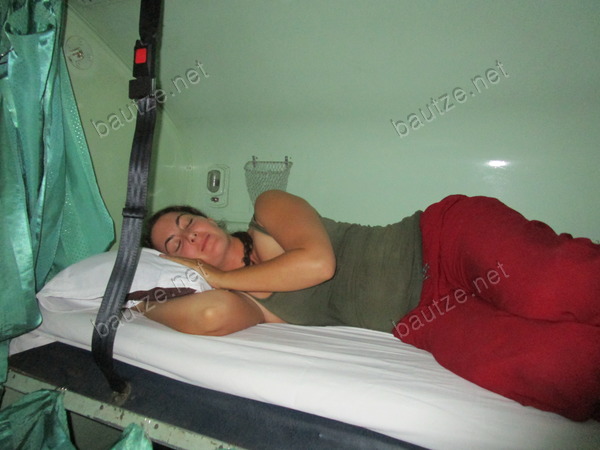 In George Town erwartete uns allerdings eine böse Überraschung und wir hatten eine übermüdete Schlacht geschlagen um an Land zu gehen.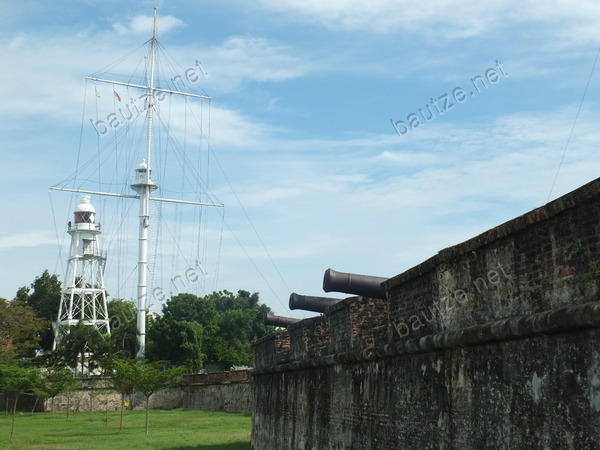 Die Stadt liegt auf der Insel Penang an der Ostküste Malaysias und beim Übertreten der Ländergrenze wurden wir wie erwartet 500 Jahre in die Vergangenheit geschleudert.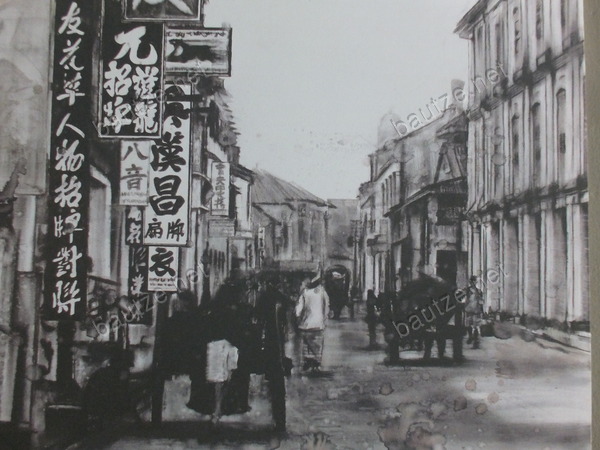 Die damalige Mode war auch nicht ohne.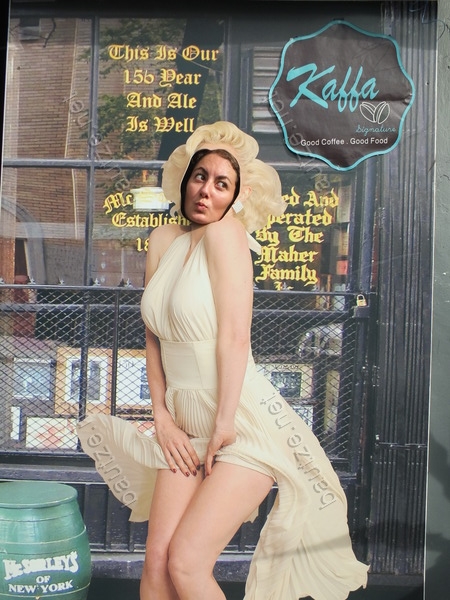 Aufgrund der immensen Größe hielt die Wirkung der Räucherstäbchen weiterhin an.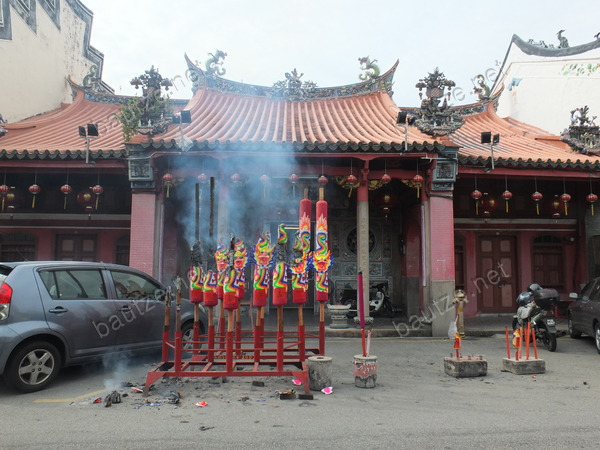 Unsere Köpfe fühlten sich quasi wie aufgequollen an.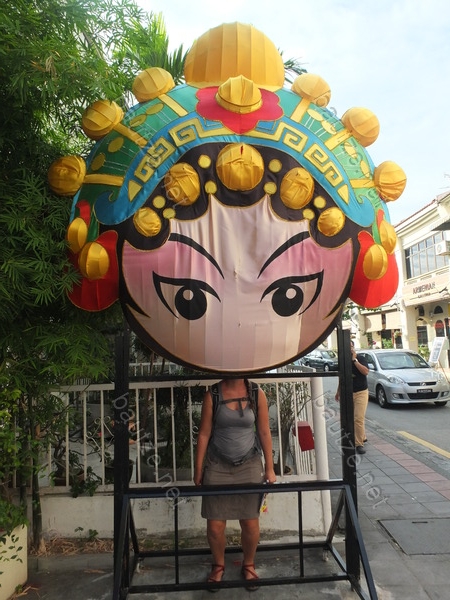 Glücklicherweise brachte uns die lokale Propaganda wieder auf den Boden der Tatsachen zurück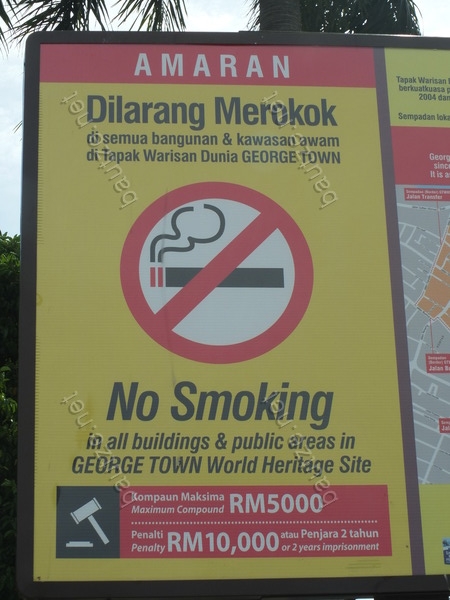 und wir realisierten, dass die eigentliche Macht von uns und nicht vom König ausging.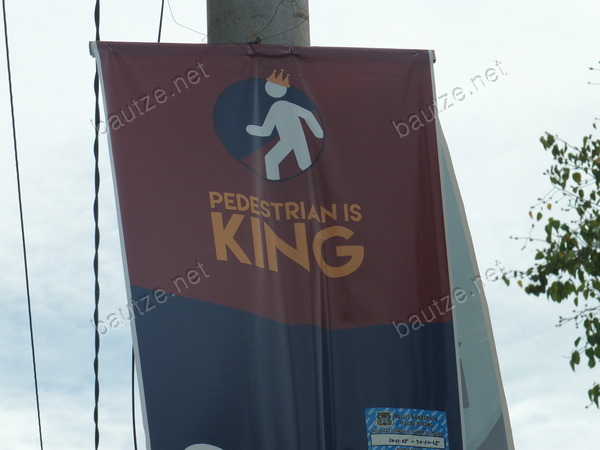 Um unsere ungeheure Macht zu demonstrieren, wagten wir ein unglaublich gefährliches Experiment.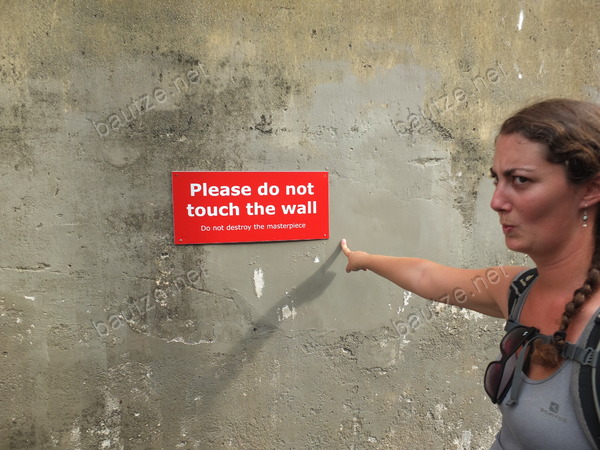 Von unseren Taten beeindruckt, flüsterte uns ein aufmerksamer Rabe zu,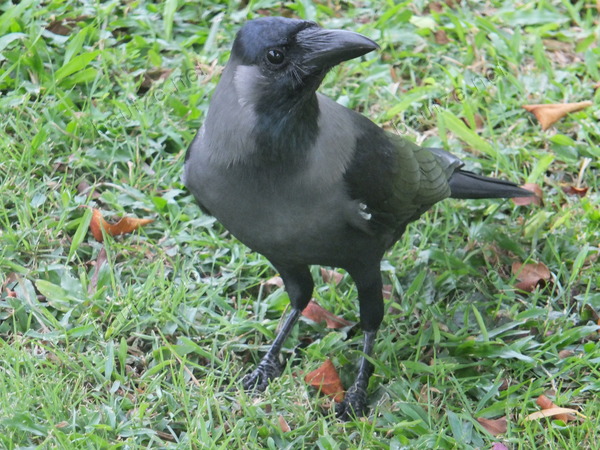 dass andere Revolutionäre in der Stadt viel Street-Art versteckt haben und so machten wir uns auf nach Georgetown, die Kunst zu erkunden.
Marge Simpson: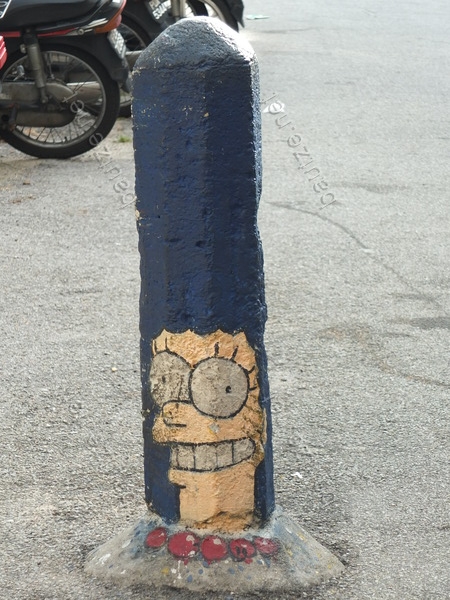 The Indian Boatsman: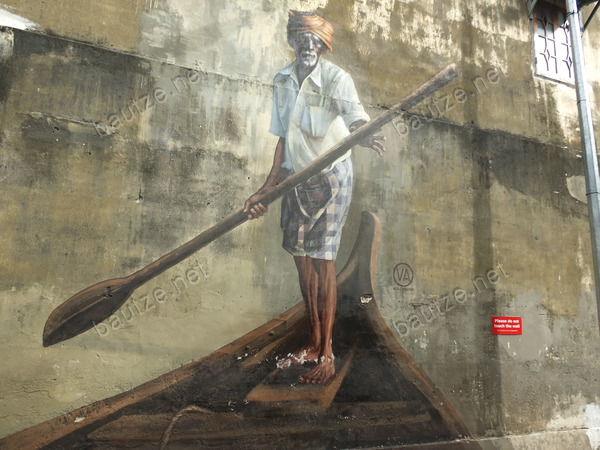 Cats And Humans Happily Living Together: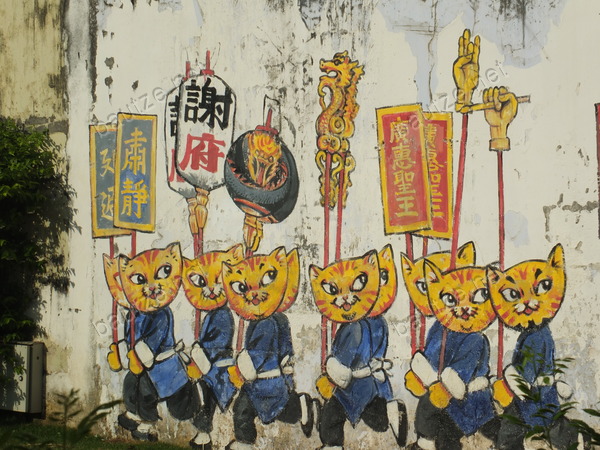 Lion Dance: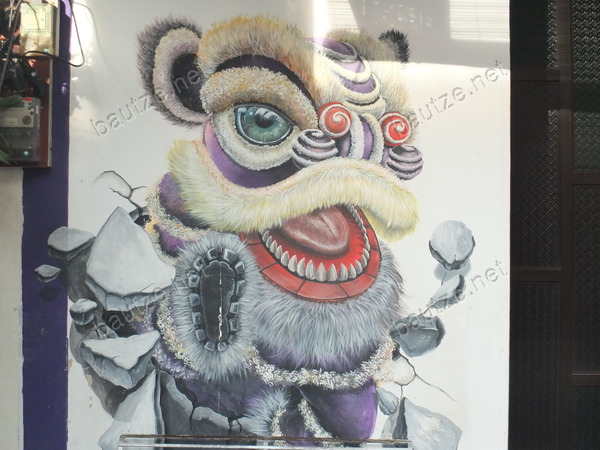 Old Motorcycle:
Imprisoned Children: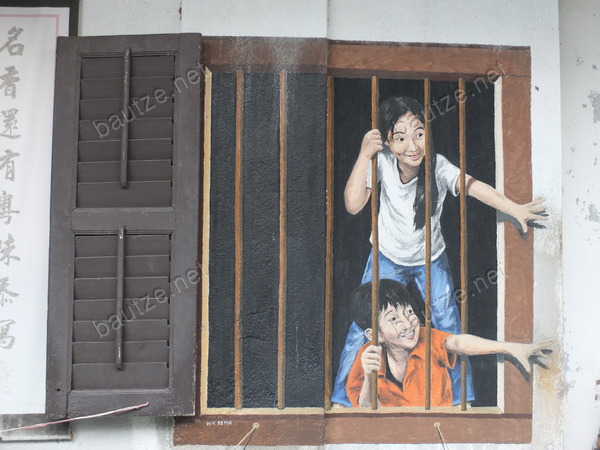 Mignons, Evil's Little Helpers: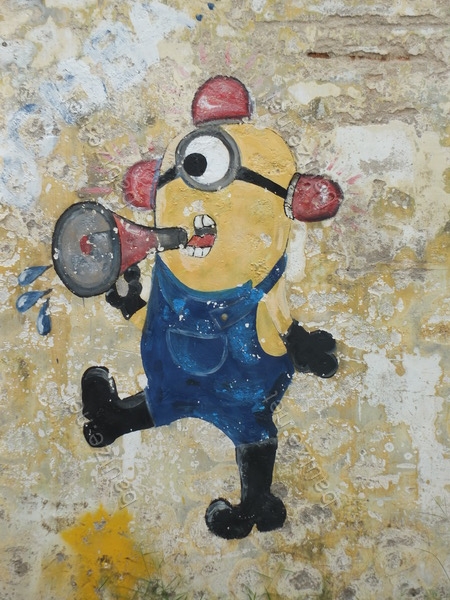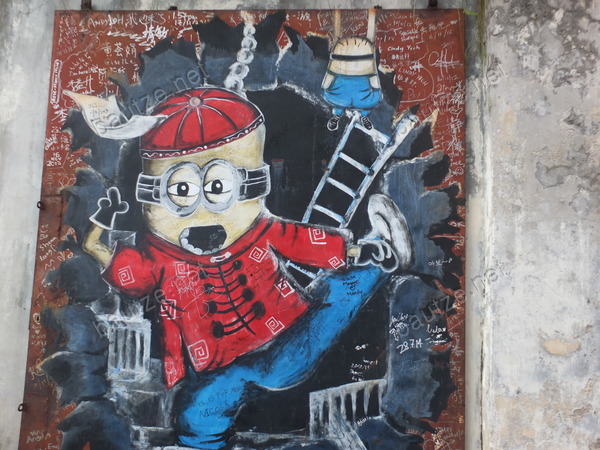 Cultural Girls: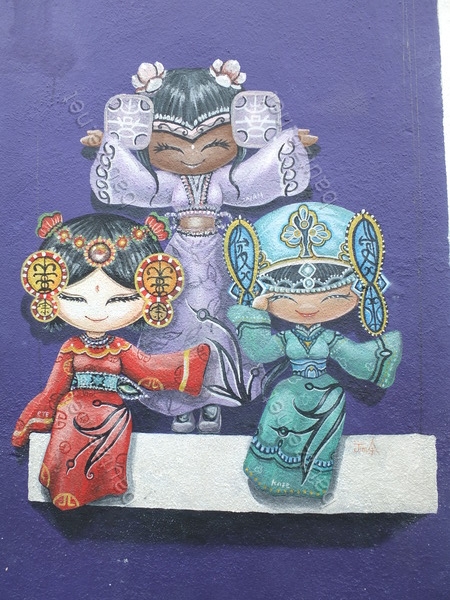 Kids On Bicycle:
Pizza Eating Dog (No Cat Poo Involved):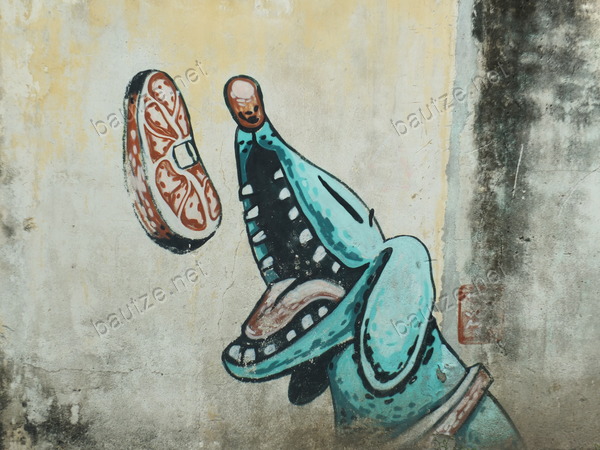 Bruce Lee: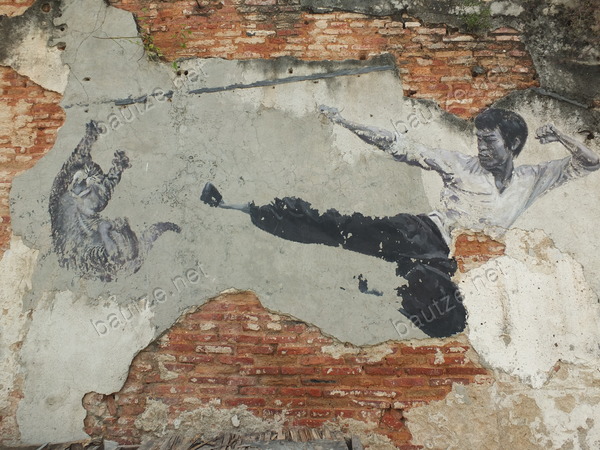 Skippy: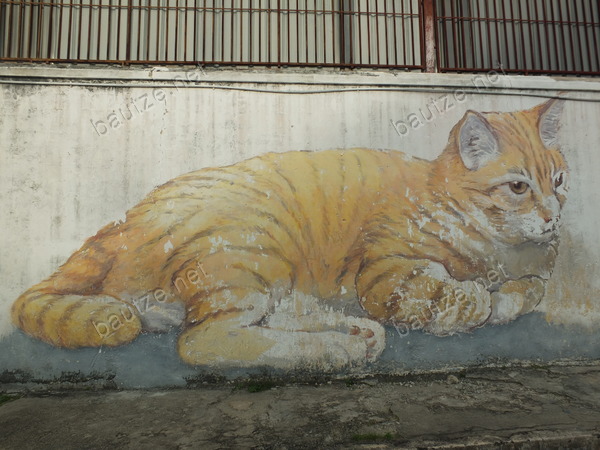 Love Me Like Your (not you're…) Fortune Cat: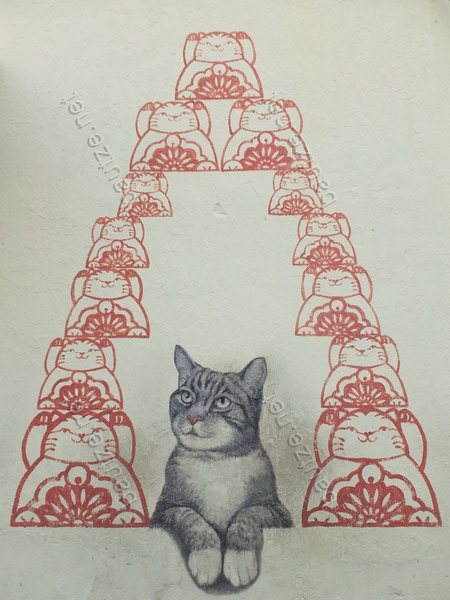 No Animal Discrimination Please: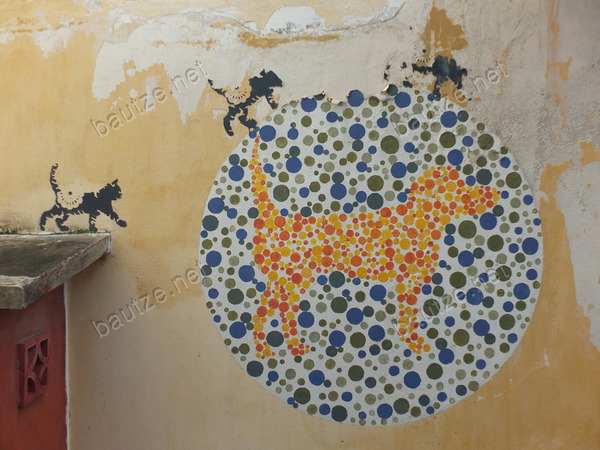 The Magical Number #27: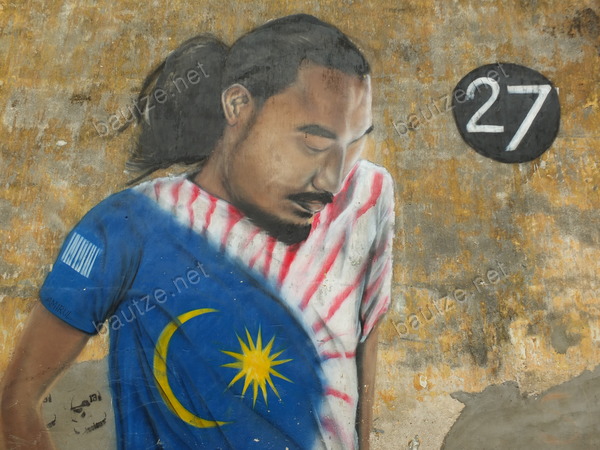 Please Care And Bath Me: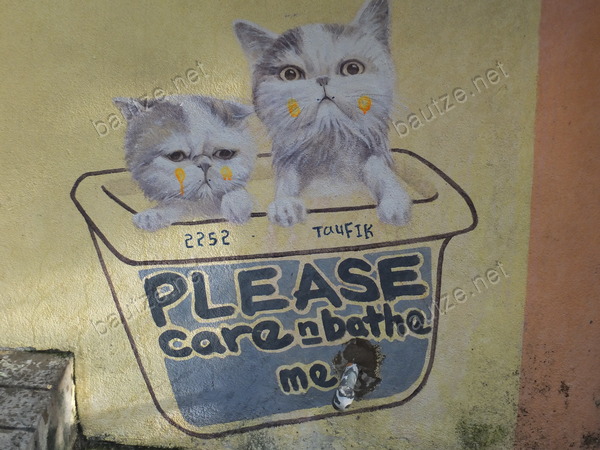 Come To The Dark Side: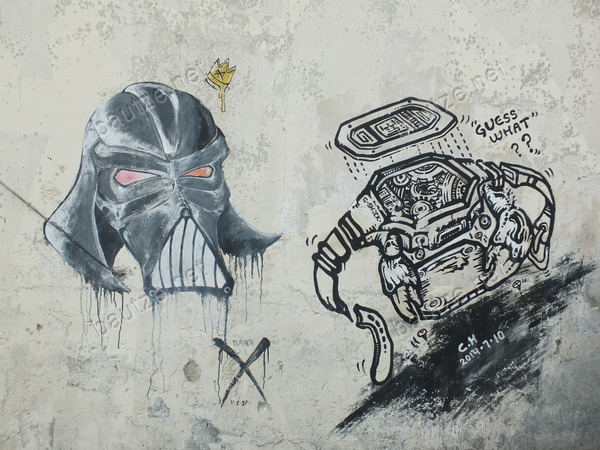 Shout, Shout, Let It All Out: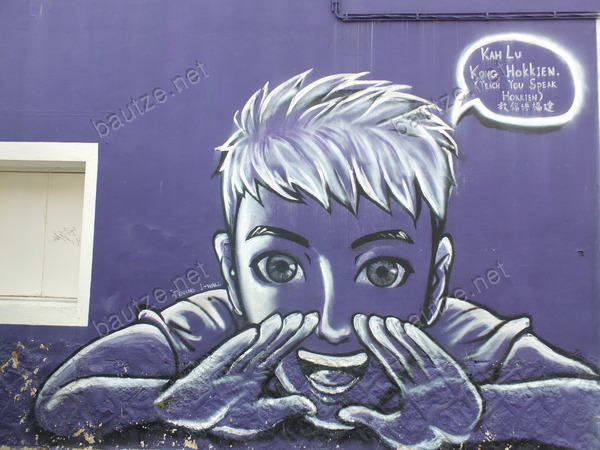 Your Royal BBQness: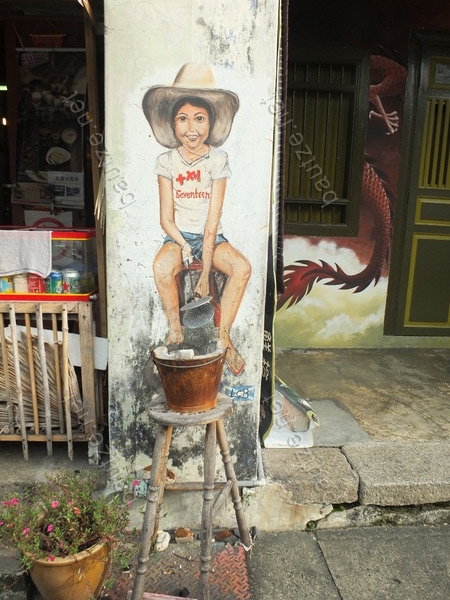 To Kill The Dragon, You Need A Sword (TKTDYNAS):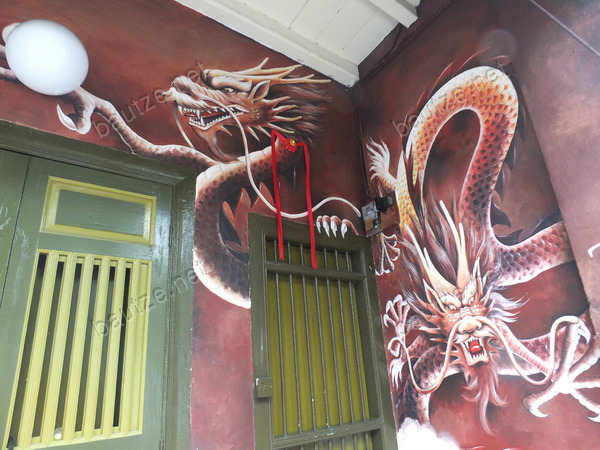 Insert Title Here: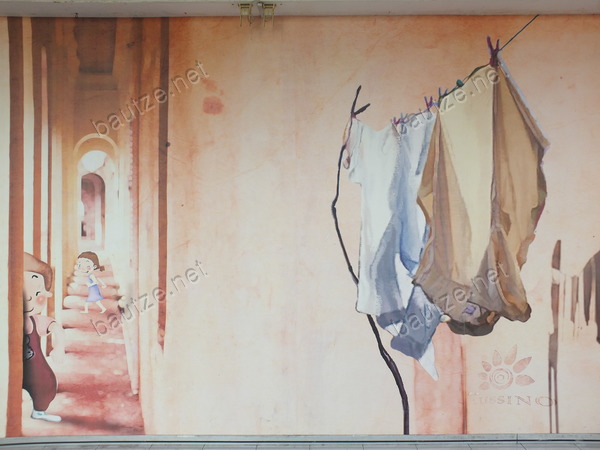 Boy On Chair: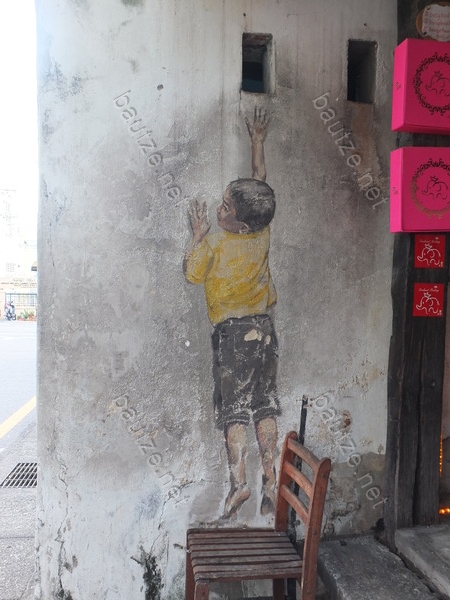 Children Playing Basketball: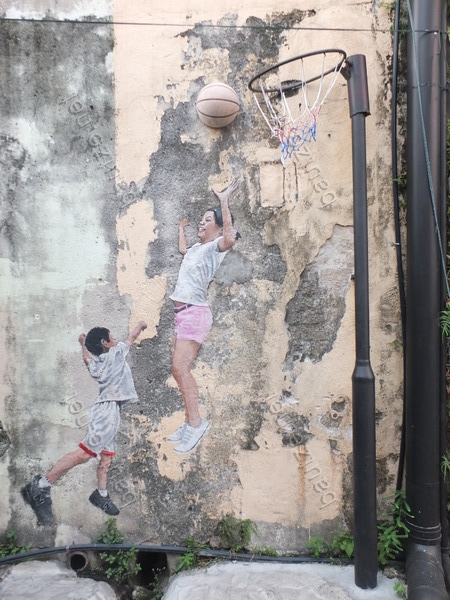 Brother And Sister On A Swing: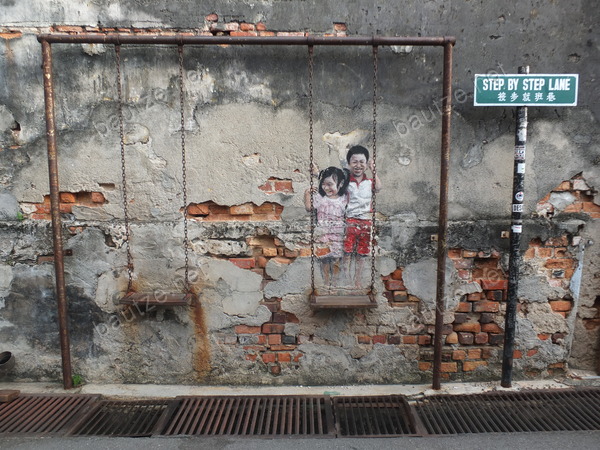 Die Namen haben wir uns übrigens nicht alle selbst ausgedacht. Neben den gemalten Street-Art Bildern gibt es überall in der Stadt verstreut noch stahlharte, geschweißte Comics (humorous illustrations in the form of iron rod sculptures, 'Marking George Town'):
Gold Teeth
The traditional Indian goldsmith sat cross legged on a floor mat. Bent over a small bench to work their work demanded patience creativity and skill.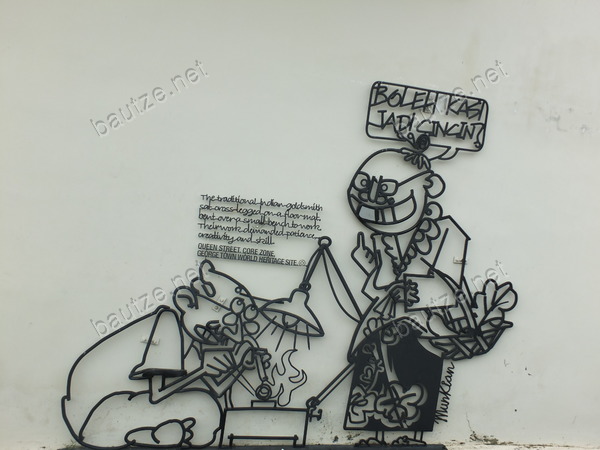 Quiet Please (Street Fighters)
To the dismay of parishioners of the Portuguese church there. Church Street also housed the headquarters of the notorious Ghee Hin secret society.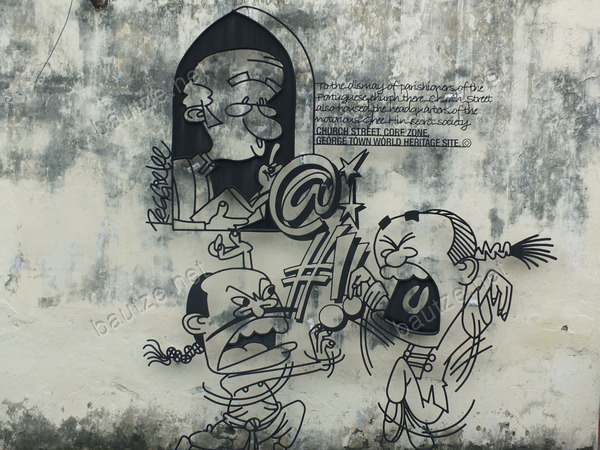 Wrong Tree
The betel nut or ' Pinang' tree gave the island its name. Aiyoh, Think I climb up the wrong tree!
Also called toddy or palm wine, tuak is an alcoholic beverage made from underdeveloped flower of coconut palm. The collecting and market for tuak was entirely an Indian affair with the majority of its drinkers being Indian labourers.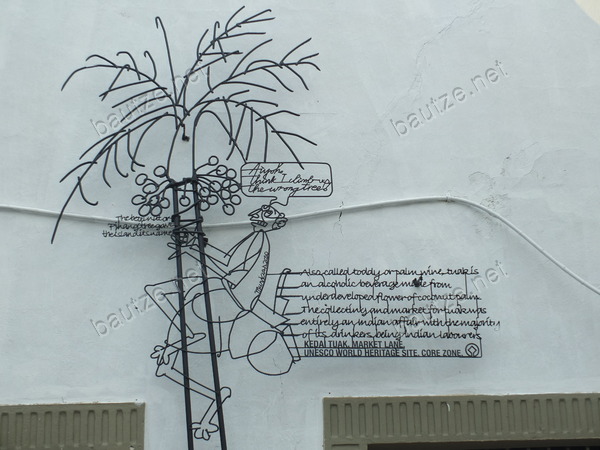 Untrained Parakeet
Parrot astrologers were Indian fortune tellers, who used green parakeets to foretell a person's future.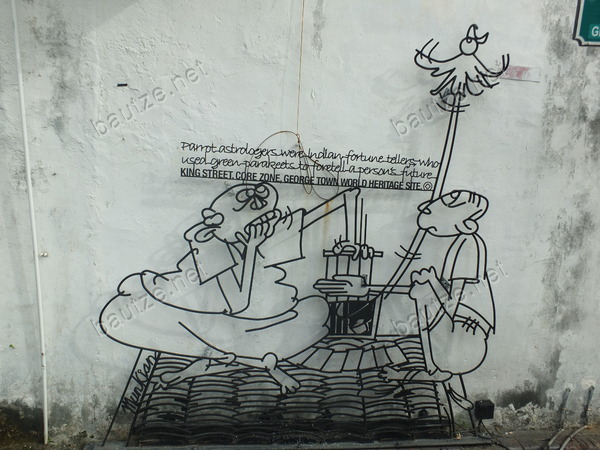 Budget Hotels
At the turn of the last century many shophouses were turned into cheap hotels and making this internationally known tourist strip very popular with backpackers.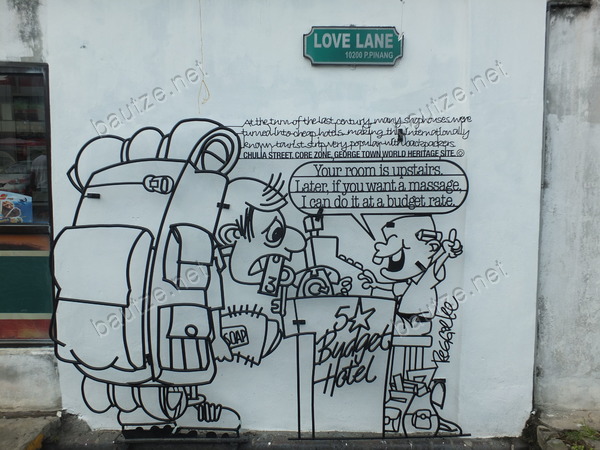 Narrowest Five Foot Way
Obviously, this is less than five feet…The 'Five Foot Way' of Wan Hai Hotel is said to be the narrowest in Penang.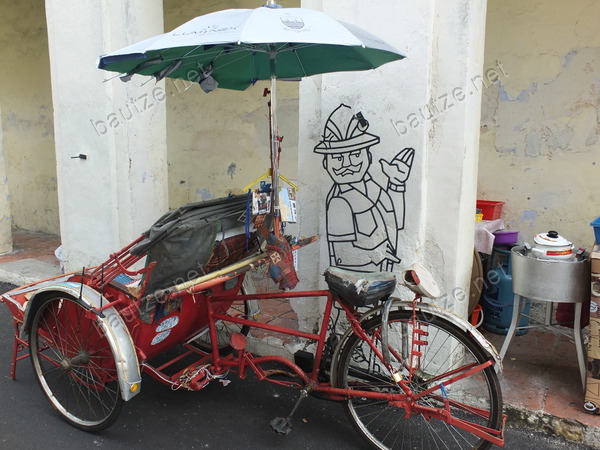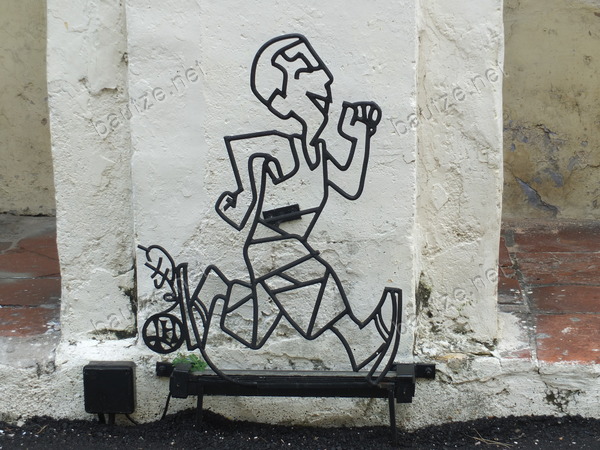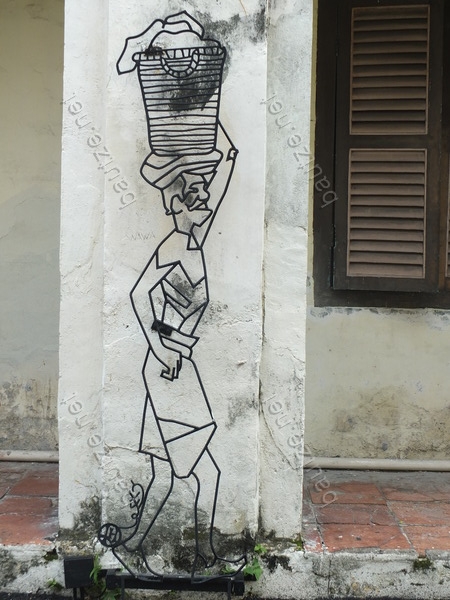 Temple Day
During the first and fifteenth day of every lunar month the goddess of Mercy Temple is a packed with devotees seekin divine guidance.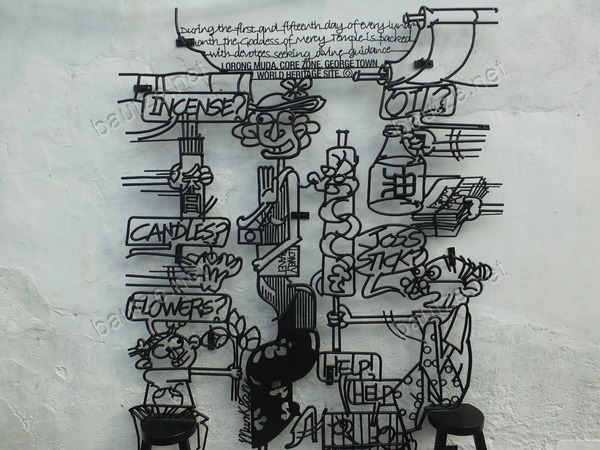 Double Role
Up until 1909 the police doubled as George Town's firefifghters.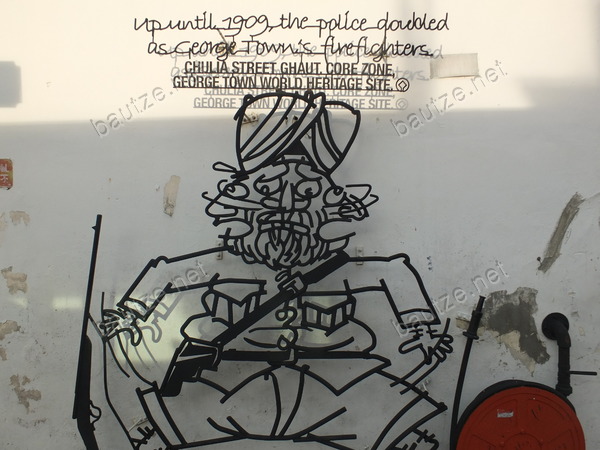 Ah Quee?
The street is named after Kapitan Chung Keng Kwee who gemerously donated his house to the Municipality for vehicle access ensuring that his name lives on for prosperity.s of Mercy Temple is a packed with devotees seekin divine guidance.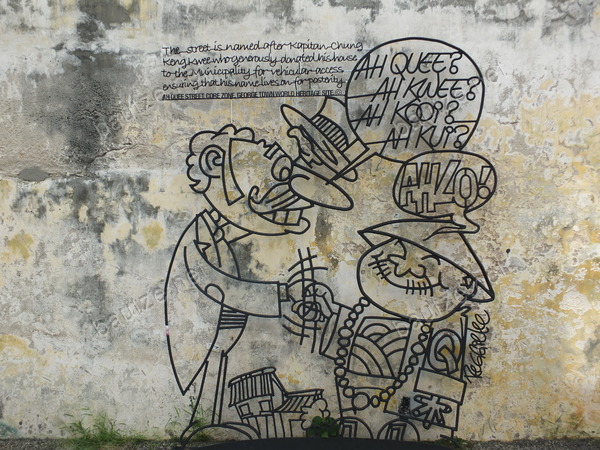 Kandar
Nasi Kandar originated from Tamil Muslims. Hawking home cooked curry dishes and rice from containers slung on both ends of a Kandar (Wooden Stick).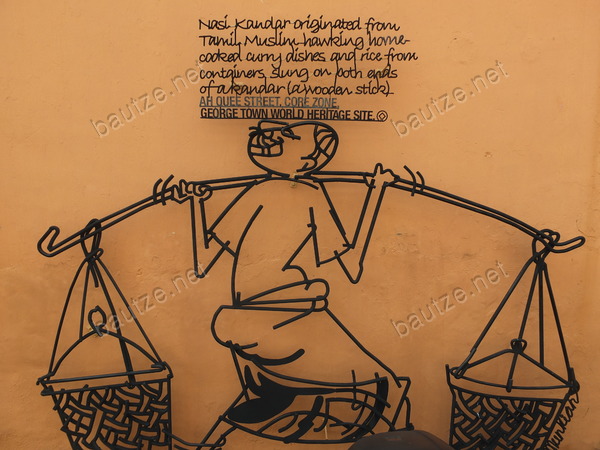 The Main Street
Chulia Street was one of the main streets laid out by Captain Francis Light. Today is known as "Backpackers" main street.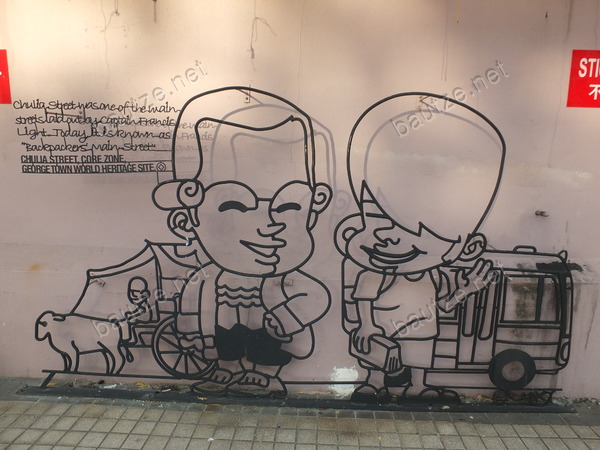 Cannon Hole
A cannon shot fired during the 1867. Penang riots made a large hole in this area hence the name.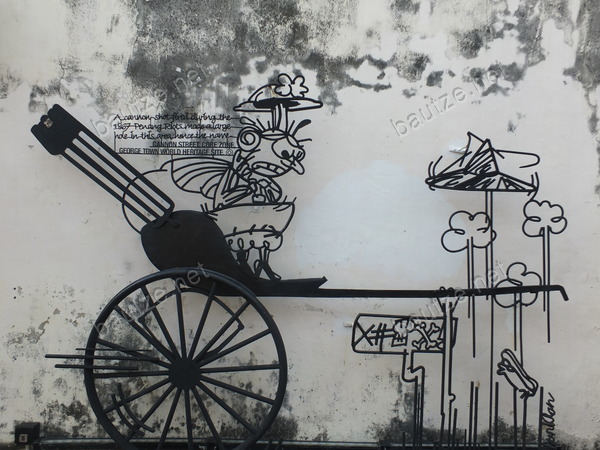 Gedung Rumput
While its royal English name sound very grand, it's also locally known as "Gedung Rumput" or Grass Godonm with bullock carts being parked along this wide street.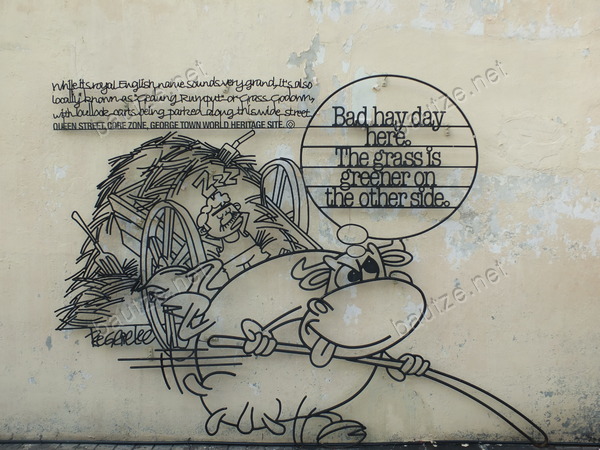 Beca
Next….here, here and here!
Locally known as 'beca'. Most of the trishaw paddlers also doubled as tourists guides.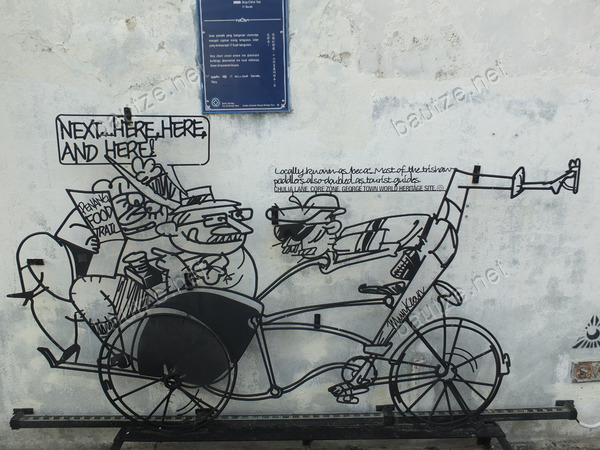 Tok Tok Mee
Tok tok mee is so called because hawkers would strike a 'Tok Tok' sound to signal their presence.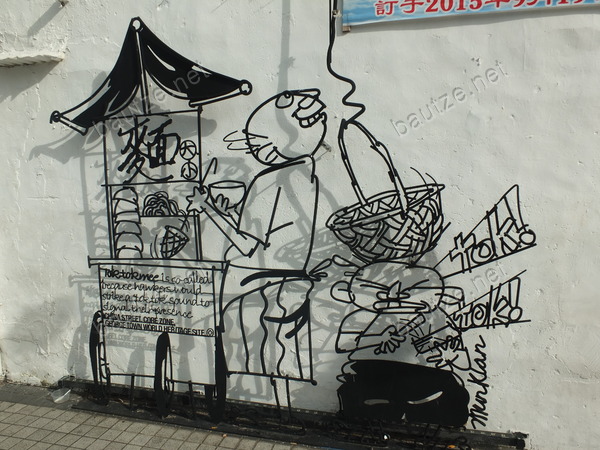 Cheating Husband
Where's my husband?
The local Chinese say the rich men who lived in Muntri Street kept their mistresses here, hence the name 'Ai Cheng Hang' or Love Lane.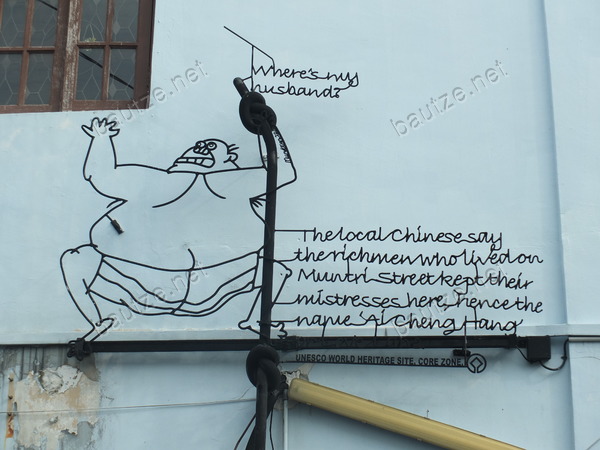 Property
In the 1800's, shops and godowns on Victoria Street were built at the Seafront.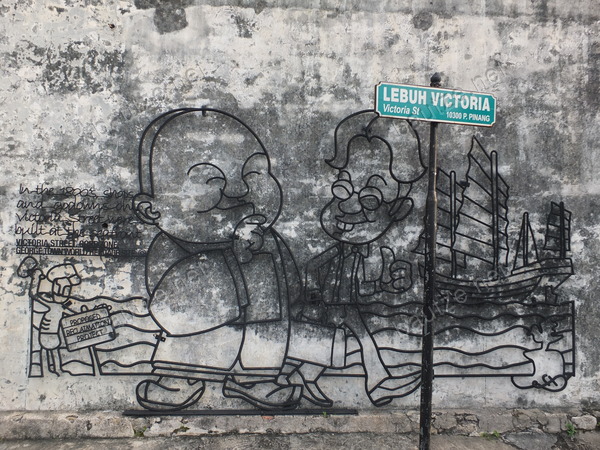 Ting Ting Thong
Seck Chuan Lane was a distribution centre for market produce. Many itinerant hawkers took advantage of the crowds by plying their foods here. One of the favourite foods sold is ting ting thong or rock candy, a hardened mixture of sugar, sesame seeds, and nuts loved by kids. It has to be 'Chiselled' and 'Hammered' to break it into smaller biteable pieces.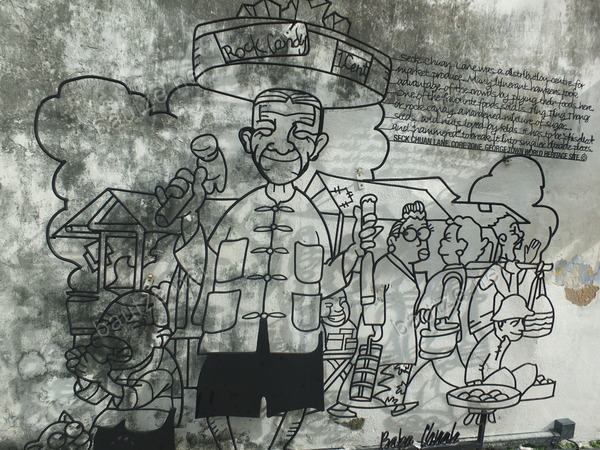 Yeoh Only
Yeoh Kongsi was established in 1836 to look after the welfare of the newly arrived Yeoh clansmen.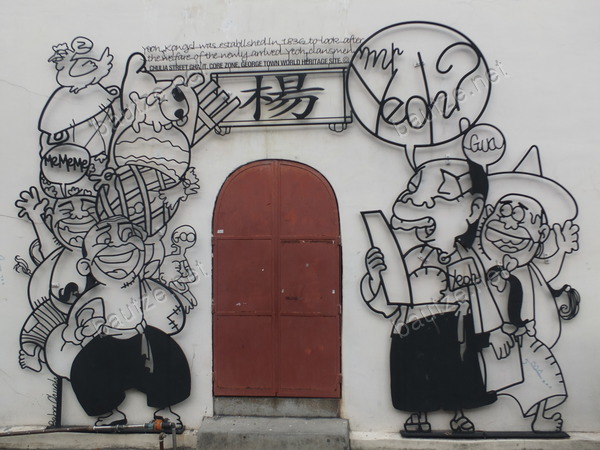 Too Narrow
The hand-pulled rickshaw was the most popular form of transportation in early Penang.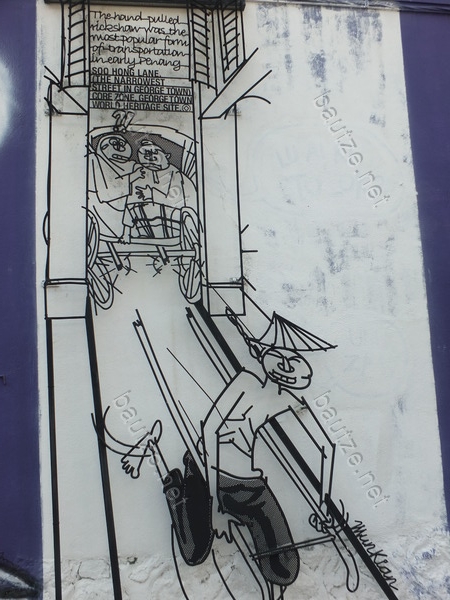 Roti Benggali
Roti Benggali came from the word Penggali (shareholders' in Tamil).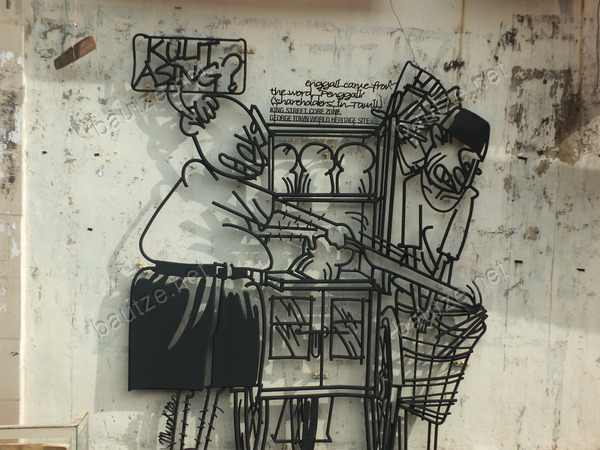 Wer es bis hier her geschafft hat, bekommt ein Bier (oder Schnaarps) auf unserer Welcome-Back-Party.